2020 New Year Holiday Travel Tips
Before Travel Tips
Learn about health concerns at your destination
Even if you're familiar with your destination, new and important health concerns could make or break your trip. Once you are in the know, make an appointment with a travel medicine specialist or your health care provider at least a month before your trip to get vaccines, medications, and health advice for yourself and your children. Even if you are leaving soon, a visit to the a doctor is still valuable.
Pack a travel health kit
Your travel health kit may include prescription and over-the-counter medicines (enough to last your whole trip, plus a little extra), sunscreen, alcohol-based hand sanitizer, first aid supplies, health insurance card, insect repellent, and condoms. Pack your prescription drugs and any must-have items in your carry-on in case your luggage gets lost.
Get safety information
For the latest safety updates and help in an emergency, enroll with theSmart Traveler Enrollment Program (STEP). Use the US State Department website to monitor travel advisories at your destination.
Plan for the unexpected
Leave copies of your itinerary, contact information, credit cards, and passport with someone at home, in case you lose them during travel. Also, find out if your health insurance covers medical care abroad—many plans do not! Consider buying additional insurance that covers international health care and emergency evacuation, especially if you are traveling to remote areas.
During Your Trip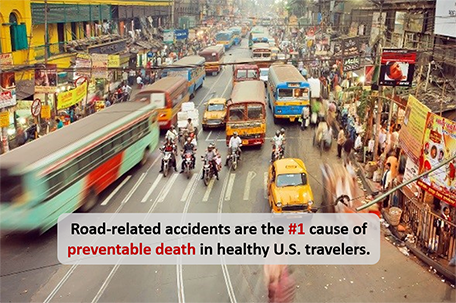 Prevent mosquito bites
Dengue. Countries in the Americas,Africa, and Asia are reporting large dengue outbreaks. Protect yourself bypreventing mosquito bites.
Always wear seat belts and choose safe transportation
Road accidents are the number one killer of Americans abroad. Buckle up and choose safe transportation. Ride only in marked taxis or ride-sharing vehicles, and avoid overcrowded, overweight, or top-heavy buses or vans. Be alert when crossing the street, especially in countries where people drive on the left. Children should always ride in age-appropriate car seats, even when traveling abroad. Bring car seats with you when you travel, because they may not be available or meet U.S. safety standards in many countries.
Prevent bug bites
Bugs, including mosquitoes, ticks, fleas, and some flies, can spread diseases that can cause death or severe and lasting consequences. Use an EPA-registered insect repellent made with one of the following active ingredients: DEET, picaridin, IR3535, oil of lemon eucalyptus (OLE), para-menthane-diol (PMD), or 2-undecanone. Follow instructions on the label carefully and reapply as directed. Remember the sunscreen/bug spray rule: Always apply sunscreen BEFORE bug spray!
Choose food and water carefully
Contaminated food or drinks can cause travelers' diarrhea and other diseases. Travelers' diarrhea is the most common travel-related illness, especially in children. In developing countries, eat and drink safely. Eat only food that has been fully cooked and served hot. Do not eat fresh vegetables or fruits unless you can peel them yourself. Drink only bottled, sealed beverages, and avoid ice—it was likely made with tap water.
Protect yourself in any temperature
When traveling to hot or cold climates, take steps to prevent temperature-related illnesses, injuries, and death. Wear sunscreen with SPF 15 or higher outdoors. Remember that sun protection isn't just for the beach—you can get a sunburn even if it's cloudy or cold! Protect yourself from extreme temperatures and sun exposure.
After You Return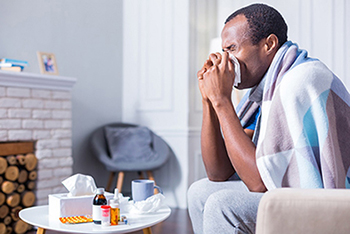 If you are not feeling well when you get home, let your doctor know where you have been, including all the places you went on your trip and what you did there. This information will help your doctor consider diseases or conditions not typically seen in the United States. Remember, some travel-related illnesses may not cause symptoms until after you get home.