EVIDENCE OF TRANSMISSION BY HANDS
There is multiple scientific evidence that shows how staff hands transmit multi-resistant bacteria and colonize hospitalized patients. Ex .:
41% of hand cultures of health workers were positive for EVR (after patient care and before hand washing)
Hayden M, Clin infect diseases 2000: 31 1058-1065
EVR can be recovered from numerous patient unit sites
Hayden M ICAAC, 2001 Chicago
EVR survives on surfaces for more than 7 days
Noskin G Infect. Control and epidemiol 1995: 16 577-581
Studies conducted with cultures of different sites of the Unit – patient as shown in Figure (X), determined how multiresistant germs such as EVR, Klebsiella spp MR were found persistently, thus favoring the transmission of bacterial resistance to other nosocomial germs that were not .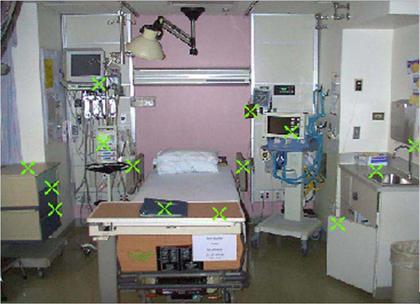 WHAT ARE THE MOST IMPORTANT REASONS FOR THE PRACTICE OF A GOOD WASHING OF HANDS?
Remove visible dirt from hands
Decrease colonization of patients with nosocomial germs
Prevent infections that patients acquire in the hospital.
Prevent bacterial transfer from home to hospital and from hospital to home.
Decrease hospital costs.
WHY HAND HYGIENE?
HAND HYGIENE IS THE GREATEST FACTOR IN REDUCING THE TRANSMISSION OF MICROORGANISM
NOSOCOMIAL INFECTIONS ARE THE GREATEST CAUSE OF MORBI-MORTALITY: 5 TO 25%
Most frequent germs: Cocos Gram +, Candida sp, Bacilos Gram -.
BACTERIAL RESISTANCE HAS BEEN TRANSFORMED IN A SERIOUS PUBLIC HEALTH PROBLEM
HAND HYGIENE is the key in the infection control program, together with the isolates and the proper use of antibiotics.
There are multiple works that confirm how through different hand hygiene techniques it is possible to reduce their colonization.
So also works that compare different antiseptics and their residual effect
Hand hygiene is a simple and effective measure to prevent nosocomial infections.
The average compliance of this measure varies in the pavilions of the hospitals and the different professional categories of health personnel and according to the working conditions, but is usually <50%
With the improvement of hand hygiene, the transmission of antimicrobial resistant pathogens can be prevented and the rates of nosocomial infections reduced.
An example of this are the following works:
REDUCTION OF THE BACTERIAL COLONIZATION WITH HAND HYGIENE
Hosp Epidemiol Infect Control, 2nd Edition, 1999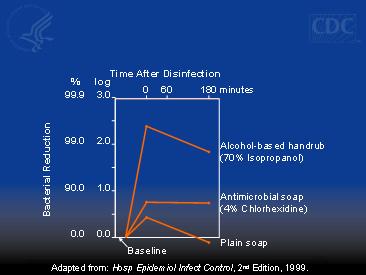 EFFECT OF HAND HYGIENE ON RESISTANT MICROORGANISMS
Source: Pittet D: Emerg Infect Dis 2001; 7: 234-240
IMPLEMENTATION OF BEST PRACTICES FOR THE DECREASE OF EVIDENCE-BASED NOSOCOMIAL INFECTIONS
Collaborative work in 7 UTINs in the United States showed a decrease in the incidence of bacteremia associated with staphylococcus coagulase negative, from 24.6% in 1997 to 16.4% in 2000.
Pediatrics vol 11 April 2003 Author: Howard W. Kilbride et al.
HAND HYGIENE IN NEONATAL THERAPY: MULTIMODAL INTERVENTION AND IMPACT ON NOSOCOMIAL INFECTION
The evaluation of an educational program on protocolized hand hygiene, reduction of the opportunity for contact with patients and facilitation of adherence showed:
Pediatrics vol 114 November 2004 Author: Barbara CC et al
As will be observed, there is no doubt about the impact that HAND HYGIENE has on the daily task of caring for infants to prevent nosocomial infections, a recent article published in the Journal of Hospital Infection (2005) reports as a modest effect! a 40% reduction in infection rates with the sole use of hand hygiene.