What's the Benefits of Automatic Hand Sanitizer Dispensers
Sanitizers are typically liquid or gel structures that may or may not contain alcohol. People use it to get rid of germs, viruses, and bacteria that pile up on our hands and surfaces around us. In the wake of the COVID-19 pandemic, the need to go touchless has been continuously highlighted to combat the spread of this disease. For this reason, we are going to talk about the benefits of automatic hand sanitizer dispensers.
How do viruses spread?
The importance of sanitizing your hands and your surroundings has never been more pronounced. It is a common misconception that wearing a protective mask is enough to keep the virus from spreading. Health experts believe that the coronavirus has a high incidence of tactile transmission, i.e., spreading through touch.
This means that no matter how much you keep your social distance, some particles of the virus can be transferred onto the things you touch. So, you could be dispersing the virus without even being aware of it. When you spray or wash your hands with store-bought liquid sanitizers, you have no way of knowing if the bottle itself is contaminated.
The bottle that contains the sanitizing liquid might spread contamination.
Furthermore, sanitizing your hands with disinfectant liquid also enables you to wash your hands without having to search for a sink and soap to do so. Many schools, strip malls, offices, and major institutions have switched to automatic hand sanitizer dispensers instead of ones that you have to hold and press yourself to release the sanitizing liquid. Of course, there are other benefits to using touch-free hand sanitizer dispensers. Let's take a look at what they may be.
Automatic hand sanitizer dispensers are perfect for ensuring safety in a variety of situations
Using a hand sanitizing liquid without having to touch the dispenser is the perfect solution for ensuring health safety in risky, high-contact environments such as schools and offices. Many companies have been struggling to keep their employees from contracting the disease. The same goes for schools – some countries have had to temporarily close down educational institutions.
Be sure to place automatic hand sanitizer dispensers at entryways, cafeterias, and shared rooms in your office building or school. In this way, people entering the closed space will be able to clean their hands and personal belongings whenever the need arises.
Automatic hand sanitizers are ensuring health safety in offices.
Alt: a woman sanitizing her hands in her office
However, be sure to enforce regular hand washing in addition to hand sanitizing. Hence, this is just one of the methods you can rely on to devise a successful disease prevention strategy.
Hand sanitizer dispensers are easy to install
Although this might seem counterintuitive, automatic handwashing dispensers are generally very easy to install. You only have to have an idea on how to choose the right hand sanitizer dispenser. Luckily, there are many great hands-free hand sanitizer dispensers on the market nowadays.
Hand sanitizer dispensers come in many shapes and sizes
Choose the dispenser based on the size and type of solution you prefer. So, if you are buying one for your office, you might want to opt for dispensers that can last through the entire day without needing a refill.
Furthermore, the mechanism that supplies the sanitizing liquid has been improved to ensure durability and efficiency. So, once mounted on a wall or a mobile station, you are free to use it.
Hands-free automatic sanitizers are fun and easy to use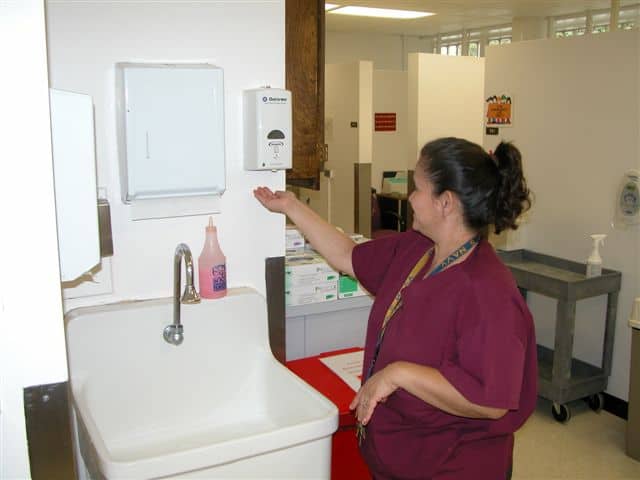 Interestingly, the fact that the sanitizing liquid goes out of the dispenser automatically makes it much more fun to use. People tend to quickly abandon washing their hands every single time they touch something. As a result, installing an automatic sanitizer dispenser is a non-intrusive way to stimulate people to do so.
People quickly get tired of washing their hands all the time.
Alt: a person washing their hands with soap and water
So, this is one way you can ensure that children sanitize their hands regularly. The same goes for workers in factories, workshops, and other places where people touch their surroundings constantly.
Automatic hand sanitizer dispensers save time
Automatic hand sanitizers are good for speeding up the disinfection process. Let's face it – all it takes to sanitize your hands is a simple movement of the hand. Hence, this is a much less time-consuming way to wash hands than the traditional wash, soap, rinse, and repeat technique.
Of course, this does not suggest that you should overlook or neglect proper, 'traditional' hand washing. But in some circumstances, it can make a big difference when you do not have enough time to leave everything you have been working on just to head on down to the toilet to do so. There are some situations when this is downright impossible.
For instance, some moving companies use automatic hand sanitizer dispensers to ensure that your belongings do not get contaminated while loading and unloading the moving truck. It is particularly important to keep everything clean during the process, and hand sanitizers can substantially help to keep everything disinfected.
Automatic hand sanitizer dispensers are economic
The COVID-19 pandemic has inflicted unprecedented damage on the global economy as well as individuals. With financial losses topping the charts worldwide, we need efficient and affordable hygiene more than ever.
The fact that automatic hand sanitizer dispensers release just the right amount of sanitizing liquid makes it the perfect solution to your financial problems. Also, it is really hard to lose or break automatic hand sanitizer dispensers. Of course, this may be only a small part of the whole sum of expenses you might be dealing with. Nevertheless, it is invaluable for saving money, time, and, most importantly, people's lives.